Doctor Doctor I need POPCORN
Posted Sep-28-06 11:34:44 PDT
DOCTOR DOCTOR,
I NEED SHIPPING SUPPLIES
Sounds Crazy BUT it is true!
I have not bought any shipping supplies for YEARS!
My only expense has been TAPE!
Thats it!
I have been in touch with a local pediatrics office and they Save ALL supplies for me!
FOAM BOXES are the ULTIMATE way to ship!
They are not only LIGHT WEIGHT and will cut down on your shipping fees,
WHICH .....
will reflect back to your customers saving them MONEY too!
HOW GREAT IS THAT!!!!!!!!!!
NEED POPCORN - PEANUTS?

CALL THE DOCTOR!
He has those too!
Do you realize how many doctor offices throw out all this stuff every day?
It's crazy!
CALL THE DOCTOR TODAY!
Ask them to save:
Foam Boxes,
Peanuts,
Foam,
Air-pouches,
ALL SHIPPING SUPPLIES!
Most places do not mind and it will save you a TON of money!
ADDED BONUS:
The foam boxes will also work as an ice chest cooler
and the small ones work great as a BAIT BOX!
This is yet another great BONUS item to pass onto your customers AND make them even happier!
You will also be doing a GREAT THING by recycling!
Do you realize some of these items NEVER decompose?
HELP SAVE THE DUMP,
CALL A DOCTOR TODAY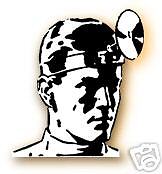 &
GET YOUR FREE SHIPPING SUPPLIES!