Posted Jun-05-07 20:26:58 PDT


Today I got an item I bought from this seller AND I have bought from her a few times before too,
BUT this time my heart was touched as she include a creation that her daughter made as a Thank you
to me for buying her Bear Book!
I thought it was SO SWEET!
I put it on my eBay wall by the side of a Suncatcher she made for me a few months ago!
Check it out::::::::::::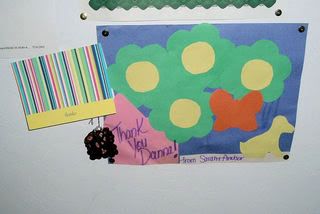 Kids grow up so fast!
Mine are in college so TREASURE the Moments
and CHECK OUT THIS GALS EBAY STORE!
She has SOMETHING you need PLUS a very cool
T-REX AUCTION going on AND add her T-Rex to your
WATCH! Thanks again,
Danna ..<><..............
http://stores.ebay.com/ms-sellaneous-finds