Posted Sep-22-06 11:14:11 PDT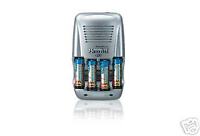 RADIO SHACK
15 MINUTE CHARGER
GREAT ITEM!
My digital camera uses a lot of batteries and this little device has been a great money saver!
In just 15 minutes I can have brand new batteries ready to pop into my camera!
I highly recommend this item.
Makes a GREAT GIFT for the College student as well as someone graduating from high school!
Every home should have one!
Each family member can have their own set of batteries too!
Charge em up in 15 minutes!
AND have BRAND NEW BATTERIES!


Excellent item!

Runs about $19.99 but I have seen them around eBay! :-)

........................................
THIS IS DIRECT FROM MY GUIDE!
Please check out my other guides and CAST YOUR VOTE!!!