Posted Oct-17-06 13:37:27 PDT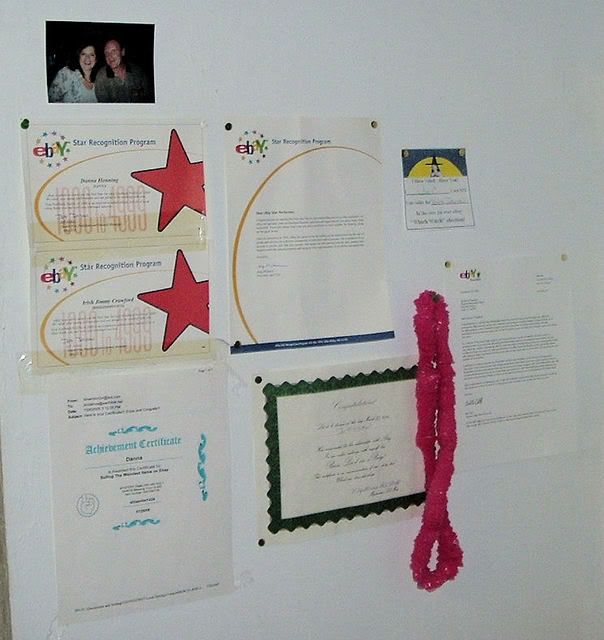 This is a side back wall!
My Husband and I , our FIRST Red Stars came with PINS!
A certificate I got from another eBay member for
selling A STRANGE AUCTION,
It was for selling a JAR full of MYSTERY SAINTS!
Another Certificate was for
from an auction that I had gotten
LEI'D on eBay
That was back in March and not been Lei'd since either! LOL
And the final one was from a WITCH Contest last year.
I am not into Halloween but it was fun!
Others are LETTERS
One from MEG and One from Bill COBB!
And a Photo of my husband and I !
THERE U HAVE IT!!!!!!!!!!
Another SECTION of MY OFFICE!!!!!!!!!!!
wooo-hoo STAY TUNED!
I am a MULTI-TASKING kind of MOM!!!
ps... THESE PHOTOS WERE NOT STAGED!
ALL YOU SEE IS REAL!
NOTHING HAS BEEN ADDED OR CHANGED!
THIS IS MY REAL LIFE!!!!!!!!!!
.................................................................


Posted Oct-17-06 13:13:49 PDT Updated Oct-17-06 13:14:15 PDT
HELLO AND WELCOME TO THE TOUR of MY OFFICE!

THIS SECTION IS LOCATED TO MY RIGHT!
Notice I have my scale ready to go!
That scale is for HEAVY items.
I do have a small electric scale you can not see.

NOTICE THE POWERSELLER SIGNS!
The newer one is My husbands!
The OLD one is Mine!
Given for OUTSTANDING PERFORMANCE & PROFESSIONALISM!
Signed by MEG herself!
((i love Meg))

OK, Notice a BIG photo of me and My daddy. (rest his soul)
He is my INSPIRATION!
Above that is a photo of My Daddy, my mom, me and BENNY HINN.
(thats another STORY) Salvation day .........
ANYHOW, next to that I have a Prayer :
Numbers: 6: 24-26 (u can look it up)

and the Black/white photo is my Husband!
Little one of the two of us AND YOU CAN'T SEE IT but I have A HUGE
Framed photo Called:
THE GREATEST! only sports people would be able to guess who it could be of?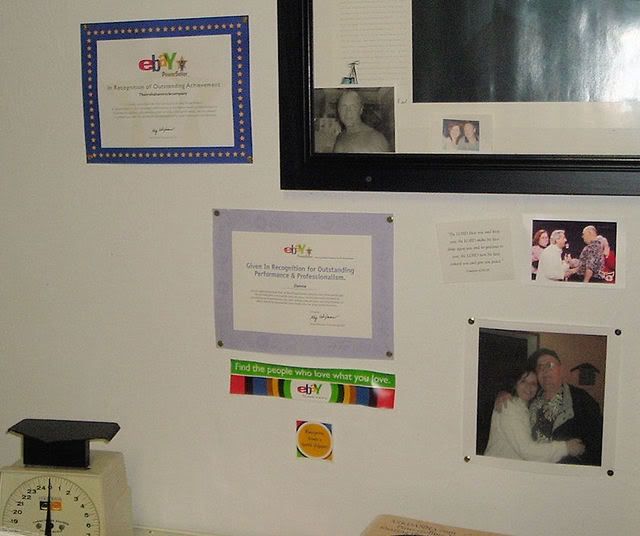 AND THERE U HAVE IT!
THE RIGHT OF MY DESK,, :-)

...................................................


Posted Oct-17-06 12:53:28 PDT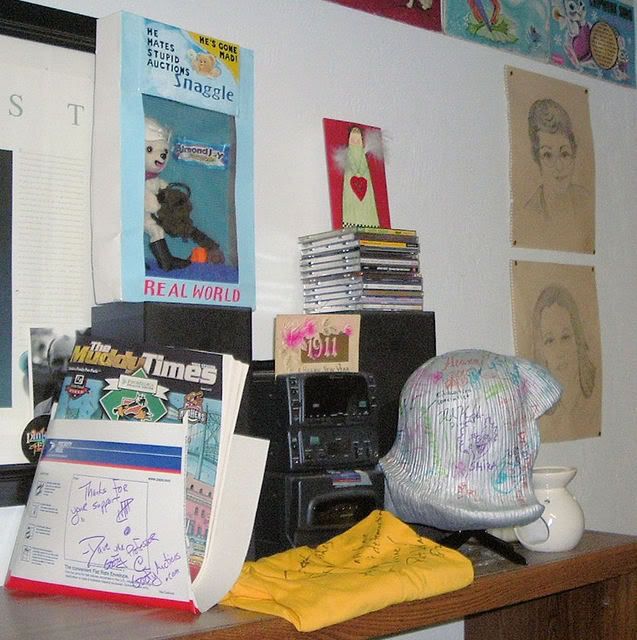 This looks odd I know BUT these are ITEMS I bought from other eBay members!!!
First off at the top, THE SNAGGLE BEAR.
The dear man that made that, he created all this WILD auctions and he Passed away at the young age of 44 from a heart attack AND I am proud of WON and Bought his last auction. He was a VERY kind seller that I enjoyed to email back and forth too!
OK, next up is a Magazine from MUDVILLE . It was a GOOFY Auction for Charity and I won it!!
Yellow T-shirt was a MYSTERY Signed T-SHIRT!
I had no idea who it was to be signed by.
All I knew was that it was going to be from a POLITICIAN.
I was kind of hoping for BUSH,, lol
But it was signed by Pat LaMarche. And it is a shirt from the Marines.
It too was for a GOOD CAUSE!
The Christmas Card with the Angel is a MYSTERY!
I have no idea who sent it! It is only signed Drama Queen.
The Pictures on the Wall were done by another eBay member and
they are of my mother and I! She is a talented lady!
The LATEX WIG ......... lol
THAT is an auction I won from E-BETSY!
She had a radio segment with GRIF on eBay Radio and she would TRAVEL around the EBAY WORLD!
I enjoyed her segments!
THIS WIG, she wore to EBAY LIVE 2 years ago! AND it is signed by TONS of eBay Executives!
I was going to make it a traveling Auction BUT I have enjoyed it HERE on my shelf!!
I may still do that one Day, not sure yet!!
E-BETSY WHERE ARE YOU btw?
I miss you!
STAY TUNED, You have not seen it ALL YET!
My OTHER WALLS will blow you away!!!
Now I am showing you my OFFICE.
This is where this photo was taken from!!!