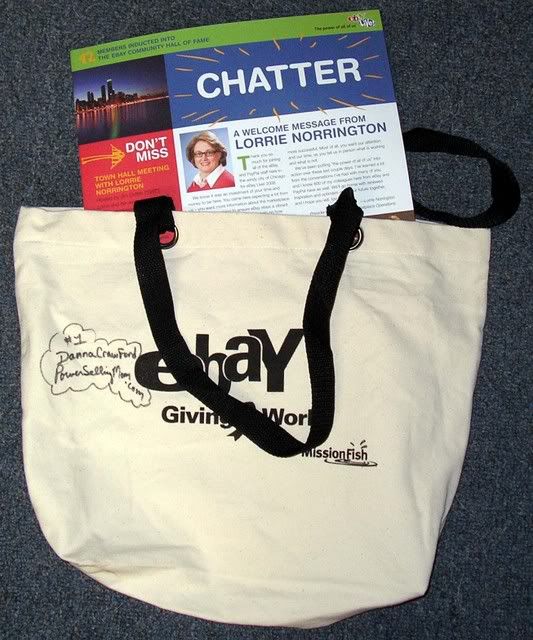 The Traveling Charity Bag auction was launched last year shortly after attending eBay live 2008. This bag was part of a give-away from eBay Giving Works at a little Cocktail party during eBay live where I was issued the 2008 Golden Ribbon Award, Community Seller from eBay Giving Works (you can watch the video below)
MEANWHILE, I listed this bag during the campaign STAND UP TO CANCER to be a part of this amazing cause in remembrance of my father that lost the battle to rectal cancer. This horrible disease needs to be STAMPED OUT.
I listed the bag on eBay and an eBay Employee won the bag at $208.00 with 100% going to: Stand Up To Cancer.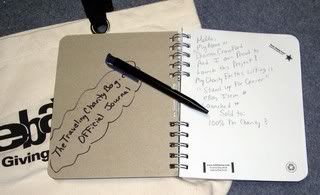 The bag also included a Journal. And the idea was for the winner to sign the bag, write in the journal and list it back on eBay for Charity. The new winner would do the same and the Traveling eBay Giving Works bag will continue on raising funds for different charities using the eBay Giving Works Platform!
Another WIN WIN situation for all involved!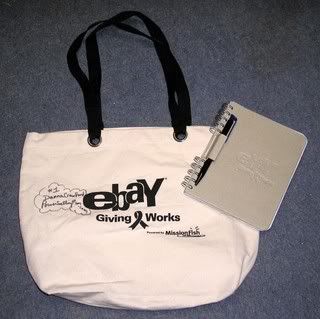 Since I've become involved with eBay Giving works a few years ago, I've always felt this platform is way overlooked by many in the eBay community. I teach the classes locally here in Ocala Florida, helping nonprofits as well as eBay sellers. I recently taught a 3 week class for
Hospice
Staff showing them how they can sell items on eBay and donate a percent back to
Hospice by using the eBay Giving Works platform
.
FOLLOW ALONG the path of the Traveling Charity Bag!
Auction ends April 29th:
I will blog about and follow the adventure of each stop this bag makes! So, anyone that wins the bag, CONTACT ME and I can blog about YOU TOO!


Class for eBay Sellers SELLING FOR CHARITY Giving WORKS

FUNDRAISING on eBay Class by Danna Crawford Ocala FL
EBAY GIVING = WORKS!!!