I just had to blog about this and share this story!

I bought a Christmas Ornament from the Charity event hosted by the eBay Selling Tips group "Ornaments for Charity Campaign" AND, this amazing eBay seller went above and beyond by providing a few little EXTRA sweet gestures.

The first brilliant little thing she did was:
She simply printed out the packaging slip through PayPal on colored paper.
Folded it very nice to make it look professional. Then she put a pretty ribbon around it and taped it in place to also include a decorative sticker.

She wrote a THANK YOU by hand on the front.
SEE BELOW: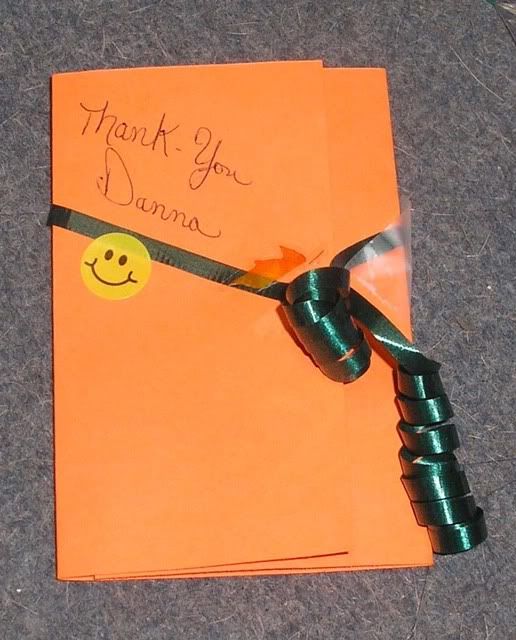 Next she printed out a lovely poem on a heavier stock of paper. To enhance the poem she included a PIN with a rose on it.
The Card read:



The Story of The Rose





God created the rose for women.




It represents beauty.




Its petals represent soft skin.




Its leaves represent out stretched arms.




Always loving and giving.




Its stem represents strength.




So, I give this rose to you.




For you are special to me.




Every time yo look at the rose,




Remember that you are SOMEBODY!




God did not take the time to make a




Nobody!!!!
See Below: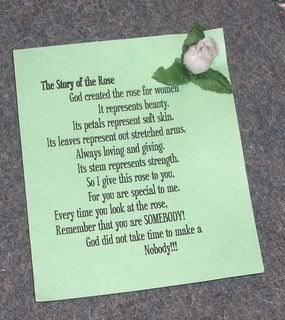 BUT WAIT,
There is MORE!
Last but not least ........
She included a Baggie!
Inside this baggie is a bunch of Mini Marshmallows,
a Mini Candy Cane and a package of Hot chocolate mix.
She included a card on top , also printed out on a heavier stock of paper.
It reads:


SO YOU'VE BEEN REAL GOOD THIS YEAR??
SANTA WILL BE GLAD TO HEAR IT.
WITH FREEZING WEATHER DRAWING NEAR
YOU'LL NEED TO WARM THE SPIRIT.
SO HERE'S A LITTLE SNOWMAN SOUP
COMPLETE WITH STIRRING STICK
ADD HOT WATER, SIP IT SLOW
ITS SURE TO DO THE TRICK!
Merry Christmas

This is a great example of how powerful a few simple little things we can do that are very inexpensive and yet will have a lasting impact on our customers.
Can't hurt the DSR's either! ((smiles))

Please visit this AMAZING eBay seller's eBay store and Give her a SHOUT OUT and let her know how special she sure is!

eBay seller: ShiRanch owner of the eBay store: